Extra Material List - Blender Addon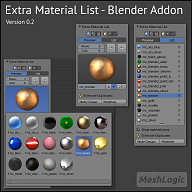 Have you ever struggled with the tiny pop-up list in the material Node Editor? So have I!
Therefore, I made an addon that enables to pop-up an extra material list with specified number of rows and columns. Optionally, you can display all materials in a plain list.
Moreover, there is a button to remove material and node group duplicates (ending with .001, .002, etc), which might occur after appending assets from external files.
Features
Two display options (preview and plain list)
Display object and world materials
Eliminate duplicates for node groups and materials
Located in Node Editor - Tools panel (T)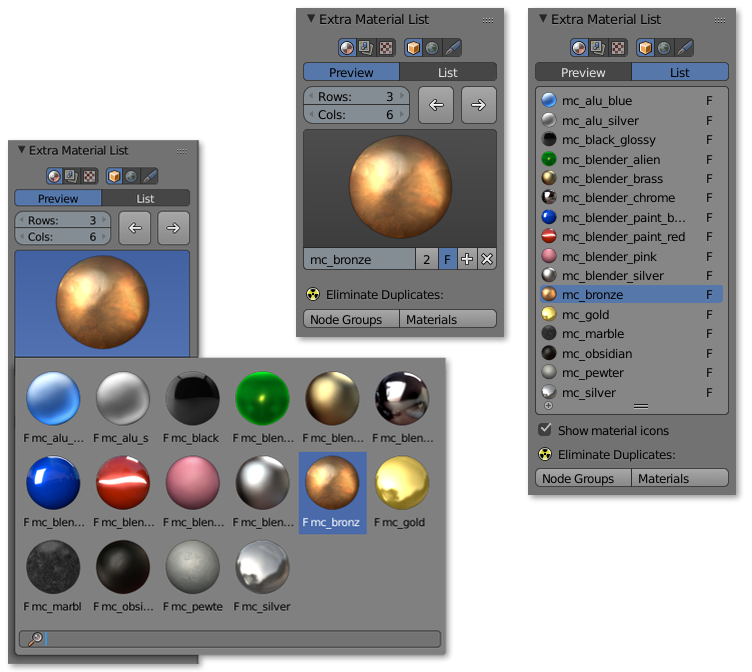 Download
blender-addons/extra-material-list/0.2/ExtraMaterialList.py (Source)
#-------------------------------------------------------------------------------




#                     Extra Material List - Addon for Blender




#




# - Two display options (preview and plain list)




# - Display object and world materials




# - Eliminate duplicates for node groups and materials




#




# Version: 0.2




# Revised: 11.08.2017




# Author: Miki (meshlogic)




#-------------------------------------------------------------------------------




bl_info

 

=

 

{


    

"name"

:

 

"Extra Material List"

,


    

"author"

:

 

"Miki (meshlogic)"

,


    

"category"

:

 

"Node"

,


    

"description"

:

 

"An alternative object/world material list for Node Editor."

,


    

"location"

:

 

"Node Editor > Tools > Material List"

,


    

"version"

:

 

(

0

,

 

2

),


    

"blender"

:

 

(

2

,

 

79

,

 

0

)




}





import

 

bpy




from

 

bpy.props

 

import

 

*




from

 

bpy.types

 

import

 

Menu

,

 

Operator

,

 

Panel

,

 

UIList




from

 

bpy.app.handlers

 

import

 

persistent






#-------------------------------------------------------------------------------




# UI PANEL - Extra Material List




#-------------------------------------------------------------------------------




class

 

ExtraMaterialList_PT

(

Panel

):


    

bl_space_type

 

=

 

'NODE_EDITOR'


    

bl_region_type

 

=

 

'TOOLS'


    

bl_category

 

=

 

"Material List"


    

bl_label

 

=

 

"Extra Material List"



    

#--- Available only for "shading nodes" render


    

@classmethod


    

def

 

poll

(

cls

,

 

context

):


        

cs

 

=

 

context

.

scene


        

return

 

cs

.

render

.

use_shading_nodes



    

#--- Draw Panel


    

def

 

draw

(

self

,

 

context

):


        

layout

 

=

 

self

.

layout


        

cs

 

=

 

context

.

scene


        

sdata

 

=

 

context

.

space_data


        

props

 

=

 

cs

.

extra_material_list



        

#--- Shader tree and type selection


        

row

 

=

 

layout

.

row

()


        

row

.

alignment

 

=

 

'CENTER'


        

row

.

prop

(

sdata

,

 

"tree_type"

,

 

text

=

""

,

 

expand

=

True

)


        

row

.

prop

(

sdata

,

 

"shader_type"

,

 

text

=

""

,

 

expand

=

True

)



        

#--- Proceed only for OBJECT/WORLD shader node trees


        

if

 

sdata

.

tree_type

 

!=

 

'ShaderNodeTree'

 

or

 

(

sdata

.

shader_type

 

!=

 

'OBJECT'

 

and

 

sdata

.

shader_type

 

!=

 

'WORLD'

):


            

return



        

#--- List style buttons


        

row

 

=

 

layout

.

row

()


        

row

.

prop

(

props

,

 

"style"

,

 

expand

=

True

)



        

#-----------------------------------------------------------------------


        

# PREVIEW Style


        

#-----------------------------------------------------------------------


        

if

 

props

.

style

 

==

 

'PREVIEW'

:



            

#--- Num. of rows & cols for the preview list


            

row

 

=

 

layout

.

row

()


            

split

 

=

 

row

.

split

(

percentage

=

0.6

)


            

col

 

=

 

split

.

column

(

True

)


            

col

.

prop

(

props

,

 

"rows"

)


            

col

.

prop

(

props

,

 

"cols"

)



            

#--- Object materials


            

if

 

sdata

.

shader_type

 

==

 

'OBJECT'

:



                

# List of all scene materials


                

mat_list

 

=

 

bpy

.

data

.

materials



                

# Current active material


                

if

 

hasattr

(

sdata

.

id_from

,

 

"active_material"

):


                    

mat

 

=

 

sdata

.

id_from

.

active_material


                

else

:


                    

return



                

# Navigation button PREV


                

sub

 

=

 

split

.

column

()


                

sub

.

scale_y

 

=

 

2


                

sub

.

operator

(

"extra_material_list.nav"

,

 

text

=

""

,

 

icon

=

'BACK'

)

.

dir

 

=

 

'PREV'


                

sub

.

enabled

 

=

 

enable_prev_button

(

mat

,

 

mat_list

)



                

# Navigation button NEXT


                

sub

 

=

 

split

.

column

()


                

sub

.

scale_y

 

=

 

2


                

sub

.

operator

(

"extra_material_list.nav"

,

 

text

=

""

,

 

icon

=

'FORWARD'

)

.

dir

 

=

 

'NEXT'


                

sub

.

enabled

 

=

 

enable_next_button

(

mat

,

 

mat_list

)



                

# Preview list


                

layout

.

template_ID_preview

(


                    

sdata

.

id_from

,

 

"active_material"

,


                    

new

 

=

 

"material.new"

,


                    

rows

 

=

 

props

.

rows

,

 

cols

 

=

 

props

.

cols


                

)



            

#--- World materials


            

elif

 

sdata

.

shader_type

 

==

 

'WORLD'

:



                

# List of all scene worlds


                

world_list

 

=

 

bpy

.

data

.

worlds



                

# Current active world


                

world

 

=

 

context

.

scene

.

world



                

# Navigation button PREV


                

sub

 

=

 

split

.

column

()


                

sub

.

scale_y

 

=

 

2


                

sub

.

operator

(

"extra_material_list.nav"

,

 

text

=

""

,

 

icon

=

'BACK'

)

.

dir

 

=

 

'PREV'


                

sub

.

enabled

 

=

 

enable_prev_button

(

world

,

 

world_list

)



                

# Navigation button NEXT


                

sub

 

=

 

split

.

column

()


                

sub

.

scale_y

 

=

 

2


                

sub

.

operator

(

"extra_material_list.nav"

,

 

text

=

""

,

 

icon

=

'FORWARD'

)

.

dir

 

=

 

'NEXT'


                

sub

.

enabled

 

=

 

enable_next_button

(

world

,

 

world_list

)



                

# Preview list


                

layout

.

template_ID_preview

(


                    

cs

,

 

"world"

,


                    

new

 

=

 

"world.new"

,


                    

rows

 

=

 

props

.

rows

,

 

cols

 

=

 

props

.

cols


                

)



            

layout

.

separator

()



        

#-----------------------------------------------------------------------


        

# LIST Style


        

#-----------------------------------------------------------------------


        

elif

 

props

.

style

 

==

 

'LIST'

:



            

#--- Object materials


            

if

 

sdata

.

shader_type

 

==

 

'OBJECT'

:


                

layout

.

template_list

(


                    

"extra_material_list.material_list"

,

 

""

,


                    

bpy

.

data

,

 

"materials"

,


                    

props

,

 

"material_id"

,


                    

rows

 

=

 

len

(

bpy

.

data

.

materials

)


                

)



            

#--- World materials


            

elif

 

sdata

.

shader_type

 

==

 

'WORLD'

:


                

layout

.

template_list

(


                    

"extra_material_list.material_list"

,

 

""

,


                    

bpy

.

data

,

 

"worlds"

,


                    

props

,

 

"world_id"

,


                    

rows

 

=

 

len

(

bpy

.

data

.

worlds

)


                

)



            

#--- Show icons prop


            

row

 

=

 

layout

.

row

()


            

row

.

prop

(

props

,

 

"show_icons"

)



        

#-----------------------------------------------------------------------


        

# ELIMINATE Duplicates


        

#-----------------------------------------------------------------------


        

row

 

=

 

layout

.

row

()


        

row

.

label

(

"Eliminate Duplicates:"

,

 

icon

=

'RADIO'

)


        

row

 

=

 

layout

.

row

(

True

)


        

row

.

operator

(

"extra_material_list.eliminate_nodegroups"

,

 

text

=

"Node Groups"

)


        

row

.

operator

(

"extra_material_list.eliminate_materials"

,

 

text

=

"Materials"

)






#-------------------------------------------------------------------------------




# Functions to decide if enable/disable navigation buttons




#-------------------------------------------------------------------------------




def

 

enable_prev_button

(

item

,

 

item_list

):


    

if

 

item

 

!=

 

None

 

and

 

len

(

item_list

)

 

>

 

0

:


        

return

 

item

 

!=

 

item_list

[

0

]


    

else

:


        

return

 

False





def

 

enable_next_button

(

item

,

 

item_list

):


    

if

 

item

 

!=

 

None

 

and

 

len

(

item_list

)

 

>

 

0

:


        

return

 

item

 

!=

 

item_list

[

-

1

]


    

else

:


        

return

 

False






#-------------------------------------------------------------------------------




# CUSTOM TEMPLATE_LIST FOR MATERIALS




#-------------------------------------------------------------------------------




class

 

ExtraMaterialList_UL

(

UIList

):


    

bl_idname

 

=

 

"extra_material_list.material_list"



    

def

 

draw_item

(

self

,

 

context

,

 

layout

,

 

data

,

 

item

,

 

icon

,

 

active_data

,

 

active_propname

,

 

index

):


        

props

 

=

 

bpy

.

context

.

scene

.

extra_material_list



        

# Material name and icon


        

row

 

=

 

layout

.

row

(

True

)


        

if

 

props

.

show_icons

:


            

row

.

prop

(

item

,

 

"name"

,

 

text

=

""

,

 

emboss

=

False

,

 

icon_value

=

icon

)


        

else

:


            

row

.

prop

(

item

,

 

"name"

,

 

text

=

""

,

 

emboss

=

False

,

 

icon_value

=

0

)



        

# Material status (fake user, zero users)


        

row

 

=

 

row

.

row

(

True

)


        

row

.

alignment

 

=

 

'RIGHT'



        

if

 

item

.

use_fake_user

:


            

row

.

label

(

"F"

)


        

else

:


            

if

 

item

.

users

 

==

 

0

:


                

row

.

label

(

"0"

)






#--- Update the active material when you select another item in the template_list




def

 

update_active_material

(

self

,

 

context

):


    

try

:


        

id

 

=

 

bpy

.

context

.

scene

.

extra_material_list

.

material_id


        

if

 

id

 

<

 

len

(

bpy

.

data

.

materials

):


            

mat

 

=

 

bpy

.

data

.

materials

[

id

]


            

bpy

.

context

.

object

.

active_material

 

=

 

mat


    

except

:


        

pass





#--- Update the active world shader when you select another item in the template_list




def

 

update_active_world

(

self

,

 

context

):


    

try

:


        

id

 

=

 

bpy

.

context

.

scene

.

extra_material_list

.

world_id


        

if

 

id

 

<

 

len

(

bpy

.

data

.

worlds

):


            

world

 

=

 

bpy

.

data

.

worlds

[

id

]


            

bpy

.

context

.

scene

.

world

 

=

 

world


    

except

:


        

pass






#-------------------------------------------------------------------------------




# ELIMINATE MATERIAL DUPLICATES




#-------------------------------------------------------------------------------




class

 

ExtraMaterialList_PT_EliminateMaterials

(

Operator

):


    

bl_idname

 

=

 

"extra_material_list.eliminate_materials"


    

bl_label

 

=

 

"Eliminate Material Duplicates"


    

bl_description

 

=

 

"Eliminate material duplicates (ending with .001, .002, etc) and replace them with the original material if found."



    

def

 

execute

(

self

,

 

context

):


        

print

(

"

\n

Eliminate Material Duplicates:"

)


        

mats

 

=

 

bpy

.

data

.

materials



        

#--- Search for mat. slots in all objects


        

for

 

obj

 

in

 

bpy

.

data

.

objects

:


            

for

 

slot

 

in

 

obj

.

material_slots

:



                

# Get the material name as 3-tuple (base, separator, extension)


                

(

base

,

 

sep

,

 

ext

)

 

=

 

slot

.

name

.

rpartition

(

'.'

)



                

# Replace the numbered duplicate with the original if found


                

if

 

ext

.

isnumeric

():


                    

if

 

base

 

in

 

mats

:


                        

print

(

"  For object '

%s

' replace '

%s

' with '

%s

'"

 

%

 

(

obj

.

name

,

 

slot

.

name

,

 

base

))


                        

slot

.

material

 

=

 

mats

.

get

(

base

)



        

return

{

'FINISHED'

}






#-------------------------------------------------------------------------------




# ELIMINATE NODE GROUP DUPLICATES




#-------------------------------------------------------------------------------




class

 

ExtraMaterialList_PT_EliminateNodeGroups

(

Operator

):


    

bl_idname

 

=

 

"extra_material_list.eliminate_nodegroups"


    

bl_label

 

=

 

"Eliminate Node Group Duplicates"


    

bl_description

 

=

 

"Eliminate node group duplicates (ending with .001, .002, etc) and replace them with the original node group if found."



    

#--- Eliminate node group duplicate with the original group found


    

def

 

eliminate

(

self

,

 

node

):


        

node_groups

 

=

 

bpy

.

data

.

node_groups



        

# Get the node group name as 3-tuple (base, separator, extension)


        

(

base

,

 

sep

,

 

ext

)

 

=

 

node

.

node_tree

.

name

.

rpartition

(

'.'

)



        

# Replace the numbered duplicate with original if found


        

if

 

ext

.

isnumeric

():


            

if

 

base

 

in

 

node_groups

:


                

print

(

"  Replace '

%s

' with '

%s

'"

 

%

 

(

node

.

node_tree

.

name

,

 

base

))


                

node

.

node_tree

.

use_fake_user

 

=

 

False


                

node

.

node_tree

 

=

 

node_groups

.

get

(

base

)



    

#--- Execute


    

def

 

execute

(

self

,

 

context

):


        

print

(

"

\n

Eliminate Node Group Duplicates:"

)



        

mats

 

=

 

list

(

bpy

.

data

.

materials

)


        

worlds

 

=

 

list

(

bpy

.

data

.

worlds

)


        

node_groups

 

=

 

bpy

.

data

.

node_groups



        

#--- Search for duplicates in the actual node groups


        

for

 

group

 

in

 

node_groups

:


            

for

 

node

 

in

 

group

.

nodes

:


                

if

 

node

.

type

 

==

 

'GROUP'

:


                    

self

.

eliminate

(

node

)



        

#--- Search for duplicates in materials


        

for

 

mat

 

in

 

mats

 

+

 

worlds

:


            

if

 

mat

.

use_nodes

:


                

for

 

node

 

in

 

mat

.

node_tree

.

nodes

:


                    

if

 

node

.

type

 

==

 

'GROUP'

:


                        

self

.

eliminate

(

node

)



        

return

{

'FINISHED'

}






#-------------------------------------------------------------------------------




# NAVIGATION OPERATOR




#-------------------------------------------------------------------------------




class

 

ExtraMaterialList_PT_Nav

(

Operator

):


    

bl_idname

 

=

 

"extra_material_list.nav"


    

bl_label

 

=

 

"Nav"


    

bl_description

 

=

 

"Navigation button"



    

dir

 

=

 

EnumProperty

(


        

items

 

=

 

[


            

(

'NEXT'

,

 

"PREV"

,

 

"PREV"

),


            

(

'PREV'

,

 

"PREV"

,

 

"PREV"

)


        

],


        

name

 

=

 

"dir"

,


        

default

 

=

 

'NEXT'

)



    

def

 

execute

(

self

,

 

context

):


        

sdata

 

=

 

context

.

space_data



        

#--- Navigate in object materials


        

if

 

sdata

.

shader_type

 

==

 

'OBJECT'

:



            

# List of all scene materials


            

mat_list

 

=

 

list

(

bpy

.

data

.

materials

)



            

# Get index of the current active material


            

mat

 

=

 

sdata

.

id_from

.

active_material


            

if

 

mat

 

in

 

mat_list

:


                

id

 

=

 

mat_list

.

index

(

mat

)


            

else

:


                

return

{

'FINISHED'

}



            

# Navigate


            

if

 

self

.

dir

 

==

 

'NEXT'

:


                

if

 

id

+

1

 

<

 

len

(

mat_list

):


                    

sdata

.

id_from

.

active_material

 

=

 

mat_list

[

id

+

1

]



            

if

 

self

.

dir

 

==

 

'PREV'

:


                

if

 

id

 

>

 

0

:


                    

sdata

.

id_from

.

active_material

 

=

 

mat_list

[

id

-

1

]



        

#--- Navigate in worlds


        

elif

 

sdata

.

shader_type

 

==

 

'WORLD'

:



            

# List of all scene worlds


            

world_list

 

=

 

list

(

bpy

.

data

.

worlds

)



            

# Get index of the current active world


            

world

 

=

 

context

.

scene

.

world


            

if

 

world

 

in

 

world_list

:


                

id

 

=

 

world_list

.

index

(

world

)


            

else

:


                

return

{

'FINISHED'

}



            

# Navigate


            

if

 

self

.

dir

 

==

 

'NEXT'

:


                

if

 

id

+

1

 

<

 

len

(

world_list

):


                    

context

.

scene

.

world

 

=

 

world_list

[

id

+

1

]



            

if

 

self

.

dir

 

==

 

'PREV'

:


                

if

 

id

 

>

 

0

:


                    

context

.

scene

.

world

 

=

 

world_list

[

id

-

1

]



        

return

{

'FINISHED'

}






#-------------------------------------------------------------------------------




# CUSTOM HANDLER (scene_update_post)




# - This handler is invoked after the scene updates




# - Keeps template_list synced with the active material




#-------------------------------------------------------------------------------




@persistent




def

 

update_material_list

(

context

):


    

try

:


        

props

 

=

 

bpy

.

context

.

scene

.

extra_material_list



        

#--- Update world list


        

try

:


            

world

 

=

 

bpy

.

context

.

scene

.

world


            

if

 

world

 

!=

 

None

:


                

id

 

=

 

bpy

.

data

.

worlds

.

find

(

world

.

name

)


                

if

 

id

 

!=

 

-

1

 

and

 

id

 

!=

 

props

.

world_id

:


                    

props

.

world_id

 

=

 

id


        

except

:


            

pass



        

#--- Update material list


        

try

:


            

mat

 

=

 

bpy

.

context

.

object

.

active_material


            

if

 

mat

 

!=

 

None

:


                

id

 

=

 

bpy

.

data

.

materials

.

find

(

mat

.

name

)


                

if

 

id

 

!=

 

-

1

 

and

 

id

 

!=

 

props

.

material_id

:


                    

props

.

material_id

 

=

 

id


        

except

:


            

pass


    

except

:


        

pass






#-------------------------------------------------------------------------------




# CUSTOM SCENE PROPS




#-------------------------------------------------------------------------------




class

 

ExtraMaterialList_Props

(

bpy

.

types

.

PropertyGroup

):



    

style

 

=

 

EnumProperty

(


        

items

 

=

 

[


            

(

'PREVIEW'

,

 

"Preview"

,

 

""

,

 

0

),


            

(

'LIST'

,

 

"List"

,

 

""

,

 

1

),


        

],


        

default

 

=

 

'PREVIEW'

,


        

name

 

=

 

"Style"

,


        

description

 

=

 

"Material list style"

)



    

rows

 

=

 

IntProperty

(


        

name

 

=

 

"Rows"

,


        

description

 

=

 

"Num. of rows in the preview list"

,


        

default

 

=

 

5

,

 

min

 

=

 

1

,

 

max

 

=

 

15

)



    

cols

 

=

 

IntProperty

(


        

name

 

=

 

"Cols"

,


        

description

 

=

 

"Num. of columns in the preview list"

,


        

default

 

=

 

10

,

 

min

 

=

 

1

,

 

max

 

=

 

30

)



    

# Index of the active material in the template_list


    

material_id

 

=

 

IntProperty

(


        

default

 

=

 

0

,


        

update

 

=

 

update_active_material

)



    

# Index of the active world in the template_list


    

world_id

 

=

 

IntProperty

(


        

default

 

=

 

0

,


        

update

 

=

 

update_active_world

)



    

show_icons

 

=

 

BoolProperty

(


        

name

 

=

 

"Show material icons"

,


        

default

 

=

 

False

)






#-------------------------------------------------------------------------------




# REGISTER/UNREGISTER ADDON CLASSES




#-------------------------------------------------------------------------------




def

 

register

():


    

bpy

.

utils

.

register_module

(

__name__

)


    

bpy

.

types

.

Scene

.

extra_material_list

 

=

 

PointerProperty

(

type

=

ExtraMaterialList_Props

)


    

bpy

.

app

.

handlers

.

scene_update_post

.

append

(

update_material_list

)





def

 

unregister

():


    

bpy

.

utils

.

unregister_module

(

__name__

)


    

del

 

bpy

.

types

.

Scene

.

extra_material_list


    

bpy

.

app

.

handlers

.

scene_update_post

.

remove

(

update_material_list

)





if

 

__name__

 

==

 

"__main__"

:


    

register

()