Collada Exporter for Second Life - Blender Addon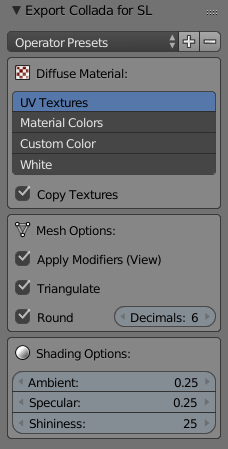 This python script is a replacement for the Blender's native Collada exporter made in C++. The main goal was to fix issues related to exporting static mesh objects including textures to the Second Life grid. Also, thanks to the python, this exporter can be easily modified/maintained without the need to go into Blender's source code and recompiling Blender.
Motivation
Recently, I've noticed that the default Collada exporter in Blender (2.78) has some problems to export textured objects for usage in Second Life. Particularly, I've reported these two issues:
These issues prevent to quickly upload larger scenes (like a whole house) including all baked textures to SL and you need to apply textures by hand after upload, which is time wasting especially when you do many uploads to test your builds.
I wanted to try to fix these issues. But alas the default Collada exporter is made in C++ and I didn't want to recompile whole Blender. So, I decided to write my own Python based exporter that would work as an addon.
Features
Export static mesh objects to Collada (.dae), including images assigned to the active UV layer.
Export normals according the Auto-Smooth mesh option. Works also with face weighted normals.
Tested with Firestorm Viewer for Second Life.
Requires python collada module https://github.com/pycollada/pycollada. Pycollada is not a part of official Blender, so must be installed into Blender's folder (e.g. Blender/2.78/scripts/modules)
ChangeLog
Version 0.3 (30.11.2017)

Remove model tags (PHY, LOD1, LOD2, etc) from material id names
Export normals according the Auto-Smooth mesh option
Added more shading options

Version 0.2 (17.05.2017)

Objects (geometry nodes) are sorted by name now

Version 0.1 (12.05.2017)
Download
blender-addons/collada-exporter-sl/0.3/ColladaExporterSL.py (Source)
#-------------------------------------------------------------------------------




#                Collada Exporter for Second Life - Blender Addon




#




# - Export static mesh objects to Collada (.dae), including textures assigned to




#   the active UV layer. Tested with Firestorm Viewer for Second Life.




#




# - Requires python collada module https://github.com/pycollada/pycollada




# - Pycollada is not part of official Blender, so must be installed into




#   Blender's folder (eg. Blender/2.78/scripts/modules)




#




#   Version: 0.3




#   Revised: 30.11.2017




#   Author: Miki (meshlogic)




#-------------------------------------------------------------------------------




# v0.3




#   - Remove model tags (PHY, LOD1, LOD2, etc) from material id names




#   - Export normals according the Auto-Smooth mesh option




#   - Added more shading options




# v0.2




#   - Objects (geometry nodes) are sorted by name now




#-------------------------------------------------------------------------------




bl_info

 

=

 

{


    

"name"

:

 

"Collada Exporter SL"

,


    

"author"

:

 

"Miki (meshlogic)"

,


    

"category"

:

 

"Import-Export"

,


    

"description"

:

 

"Export static mesh objects to Collada (.dae), incl. textures assigned to the active UV layer."

,


    

"location"

:

 

"File > Export"

,


    

"version"

:

 

(

0

,

 

3

),


    

"blender"

:

 

(

2

,

 

79

,

 

0

)




}





import

 

bpy




import

 

bpy_extras.io_utils

 

as

 

io_utils




import

 

bmesh




import

 

os




import

 

re




import

 

time




import

 

numpy

 

as

 

np




import

 

xml.etree.ElementTree

 

as

 

ET




from

 

bpy.props

 

import

 

*




from

 

bpy.types

 

import

 

Menu

,

 

Operator

,

 

Panel

,

 

UIList





# Import pycollada module




from

 

collada

 

import

 

*






#-------------------------------------------------------------------------------




# ColladaExporter OPERATOR




#-------------------------------------------------------------------------------




class

 

ColladaExporter_OT

(

Operator

,

 

io_utils

.

ExportHelper

):


    

bl_idname

 

=

 

"export_mesh.collada_sl"


    

bl_label

 

=

 

"Export Collada for SL"


    

bl_description

 

=

 

"Export the selected static mesh objects to Collada"


    

bl_options

 

=

 

{

'PRESET'

}



    

#--- Collada file extension


    

filename_ext

 

=

 

".dae"



    

#--- Mesh props


    

apply_modifiers

 

=

 

BoolProperty

(


            

name

 

=

 

"Apply Modifiers (View)"

,


            

description

 

=

 

"Apply modifiers (view mode)"

,


            

default

 

=

 

True

)



    

triangulate

 

=

 

BoolProperty

(


            

name

 

=

 

"Triangulate"

,


            

description

 

=

 

"Triangulate the mesh faces for export"

,


            

default

 

=

 

False

)



    

round_values

 

=

 

BoolProperty

(


            

name

 

=

 

"Round"

,


            

description

 

=

 

"Round values (vertex and normal coords) to the given decimal places"

,


            

default

 

=

 

True

)



    

round_decimals

 

=

 

IntProperty

(


            

name

 

=

 

"Decimals"

,


            

description

 

=

 

"Round values (vertex and normal coords) to the given decimal places"

,


            

min

 

=

 

3

,

 

max

 

=

 

9

,


            

default

 

=

 

6

)



    

#--- Material props


    

diffuse_material

 

=

 

EnumProperty

(


        

name

 

=

 

"Diffuse Material"

,


        

description

 

=

 

"Diffuse material options"

,


        

items

 

=

 

[


            

(

'UV_IMAGE'

,

 

"UV Textures"

,

 

""

,

 

0

),


            

(

'MAT_COLOR'

,

 

"Material Colors"

,

 

""

,

 

1

),


            

(

'CUSTOM_COLOR'

,

 

"Custom Color"

,

 

""

,

 

2

),


            

(

'WHITE_COLOR'

,

 

"White"

,

 

""

,

 

3

)],


        

default

 

=

 

'UV_IMAGE'

)



    

copy_images

 

=

 

BoolProperty

(


            

name

 

=

 

"Copy Textures"

,


            

description

 

=

 

"Copy textures to the export subfolder"

,


            

default

 

=

 

True

)



    

use_relative_path

 

=

 

BoolProperty

(


            

name

 

=

 

"Relative Path"

,


            

description

 

=

 

"Use relative or absolute path for UV textures"

,


            

default

 

=

 

True

)



    

#--- Shading props


    

ambient

 

=

 

FloatProperty

(


            

name

 

=

 

"Ambient"

,


            

description

 

=

 

"The amount of ambient light emitted from the surface of the object"

,


            

subtype

 

=

 

'NONE'

,


            

min

 

=

 

0.0

,

 

max

 

=

 

1.0

,


            

precision

 

=

 

2

,


            

step

 

=

 

5

,


            

default

 

=

 

0.25

)



    

specular

 

=

 

FloatProperty

(


            

name

 

=

 

"Specular"

,


            

description

 

=

 

"The light specularly reflected from the surface of the object"

,


            

subtype

 

=

 

'NONE'

,


            

min

 

=

 

0.0

,

 

max

 

=

 

1.0

,


            

precision

 

=

 

2

,


            

step

 

=

 

5

,


            

default

 

=

 

0.25

)



    

shininess

 

=

 

FloatProperty

(


            

name

 

=

 

"Shininess"

,


            

description

 

=

 

"The specularity or roughness of the specular reflection lobe"

,


            

min

 

=

 

0

,

 

max

 

=

 

128

,


            

precision

 

=

 

0

,


            

step

 

=

 

500

,


            

default

 

=

 

25

)




    

#--- Draw properties in export dialog


    

def

 

draw

(

self

,

 

context

):


        

layout

 

=

 

self

.

layout



        

# Diffuse Material options


        

box

 

=

 

layout

.

box

()


        

row

 

=

 

box

.

row

()


        

row

.

label

(

"Diffuse Material:"

,

 

icon

=

'TEXTURE'

)


        

col

 

=

 

box

.

column

()


        

col

.

prop

(

self

,

 

"diffuse_material"

,

 

expand

=

True

)


        

row

 

=

 

box

.

row

()


        

row

.

prop

(

self

,

 

"copy_images"

)


        

row

.

enabled

 

=

 

True

 

if

 

self

.

diffuse_material

 

==

 

'UV_IMAGE'

 

else

 

False



        

# Mesh options


        

box

 

=

 

layout

.

box

()


        

row

 

=

 

box

.

row

()


        

row

.

label

(

"Mesh Options:"

,

 

icon

=

'MESH_DATA'

)


        

row

 

=

 

box

.

row

()


        

row

.

prop

(

self

,

 

"apply_modifiers"

)


        

row

 

=

 

box

.

row

()


        

row

.

prop

(

self

,

 

"triangulate"

)


        

row

 

=

 

box

.

row

(

True

)


        

row

.

prop

(

self

,

 

"round_values"

)


        

row

.

prop

(

self

,

 

"round_decimals"

)



        

# Shading options


        

box

 

=

 

layout

.

box

()


        

row

 

=

 

box

.

row

()


        

row

.

label

(

"Shading Options:"

,

 

icon

=

'MATSPHERE'

)


        

col

 

=

 

box

.

column

(

True

)


        

col

.

prop

(

self

,

 

"ambient"

)


        

col

.

prop

(

self

,

 

"specular"

)


        

col

.

prop

(

self

,

 

"shininess"

)




    

#--- Execute file export


    

def

 

execute

(

self

,

 

context

):



        

# Properties as a dictionary (incl. selected filepath from file dialog)


        

kwargs

 

=

 

self

.

as_keywords

()



        

# Init ColladaExporter object and execute export


        

collada_ex

 

=

 

ColladaExporter

(

context

,

 

**

kwargs

)


        

info

 

=

 

collada_ex

.

export

()



        

self

.

report

({

'INFO'

},

 

info

)


        

return

 

{

'FINISHED'

}






#-------------------------------------------------------------------------------




# Misc Functions




#-------------------------------------------------------------------------------




# Convert list/tuple items to string separated by sep




def

 

list2str

(

items

,

 

sep

):


    

return

 

sep

.

join

(

map

(

str

,

 

items

))






#-------------------------------------------------------------------------------




# COLLADA EXPORTER CLASS




#-------------------------------------------------------------------------------




class

 

ColladaExporter

:



    

def

 

__init__

(

self

,

 

context

,

 

**

kwargs

):



        

# Collada file export path


        

self

.

export_path

 

=

 

kwargs

[

"filepath"

]


        

self

.

export_dir

  

=

 

os

.

path

.

dirname

(

self

.

export_path

)



        

# Directory of this blend file


        

self

.

source_dir

 

=

 

os

.

path

.

dirname

(

bpy

.

data

.

filepath

)



        

# Export options


        

self

.

apply_modifiers

   

=

 

kwargs

[

"apply_modifiers"

]


        

self

.

triangulate

       

=

 

kwargs

[

"triangulate"

]


        

self

.

round_values

      

=

 

kwargs

[

"round_values"

]


        

self

.

round_decimals

    

=

 

kwargs

[

"round_decimals"

]



        

self

.

diffuse_material

  

=

 

kwargs

[

"diffuse_material"

]


        

self

.

copy_images

       

=

 

kwargs

[

"copy_images"

]


        

self

.

use_relative_path

 

=

 

kwargs

[

"use_relative_path"

]



        

self

.

ambient

 

=

 

(

kwargs

[

"ambient"

],)

*

3

 

+

 

(

1.0

,)

      

# RGBA tuple


        

self

.

specular

 

=

 

(

kwargs

[

"specular"

],)

*

3

 

+

 

(

1.0

,)

    

# RGBA tuple


        

self

.

shininess

 

=

 

kwargs

[

"shininess"

]


        

self

.

custom_color

 

=

 

(

0.65

,

 

0.60

,

 

0.55

,

 

1.0

)



        

# Init Collada object for export


        

self

.

collada

 

=

 

Collada

(

validate_output

=

True

)


        

self

.

scene_nodes

 

=

 

[]



        

# Collada Asset Info


        

self

.

collada

.

assetInfo

.

upaxis

 

=

 

'Z_UP'


        

self

.

collada

.

assetInfo

.

unitname

 

=

 

"meter"


        

self

.

collada

.

assetInfo

.

unitmeter

 

=

 

1.0


        

cont

 

=

 

asset

.

Contributor

(


                

"Blender 

%s

"

 

%

 

list2str

(

bpy

.

app

.

version

,

 

"."

),


                

"Addon: 

%s

 

%s

"

 

%

 

(

bl_info

[

"name"

],

 

list2str

(

bl_info

[

"version"

],

 

"."

)),


                

"Applly Modifiers: 

%s

, Triangulate: 

%s

"

 

%

 

(

self

.

apply_modifiers

,

 

self

.

triangulate

),


                

)


        

self

.

collada

.

assetInfo

.

contributors

.

append

(

cont

)




    

#---------------------------------------------------------------------------


    

# EXPORT


    

#---------------------------------------------------------------------------


    

def

 

export

(

self

):



        

#--- Exit edit mode before exporting


        

if

 

bpy

.

ops

.

object

.

mode_set

.

poll

():


            

bpy

.

ops

.

object

.

mode_set

(

mode

=

'OBJECT'

)



        

#--- Measure script execution time


        

start_time

 

=

 

time

.

time

()



        

#--- Export all selected objects (sorted by name)


        

obj_list

 

=

 

bpy

.

context

.

selected_objects


        

obj_list

.

sort

(

key

 

=

 

lambda

 

obj

 

:

 

obj

.

name

)



        

for

 

obj

 

in

 

obj_list

:


            

self

.

export_object

(

obj

)



        

#--- Finish scene nodes


        

c_scene

 

=

 

scene

.

Scene

(

"Scene"

,

 

self

.

scene_nodes

)


        

self

.

collada

.

scenes

.

append

(

c_scene

)


        

self

.

collada

.

scene

 

=

 

c_scene



        

#--- Write Collada to file


        

self

.

collada

.

write

(

self

.

export_path

)



        

#--- Sort XML to fix upload to SL


        

self

.

sortxml

()



        

#--- Print and return info text


        

info

 

=

 

"

%d

 objects saved to '

%s

' (

%.3f

sec)"

 

%

\
                

(

len

(

bpy

.

context

.

selected_objects

),

 

self

.

export_path

,

 

time

.

time

()

-

start_time

)


        

print

(

info

)


        

return

 

info




    

#---------------------------------------------------------------------------


    

# IDNAME - Format strings for Collada ids (for material names, etc)


    

#---------------------------------------------------------------------------


    

def

 

idname

(

self

,

 

str

):



        

# Removes any PHY, -LOD1, .Lod2, _lod3 etc


        

str

 

=

 

re

.

sub

(

"[\-\.\_\s](lod|phy)\d*"

,

 

""

,

 

str

,

 

flags

=

re

.

IGNORECASE

)



        

# Replace any dot in the string by "_"


        

str

 

=

 

re

.

sub

(

"\."

,

 

"_"

,

 

str

)


        

return

 

str




    

#---------------------------------------------------------------------------


    

# ADD COLLADA IMAGE


    

# - Add image to collada.images and return the CImage object


    

# - Copy image to a subdir in the export dir if desired


    

#---------------------------------------------------------------------------


    

def

 

add_collada_image

(

self

,

 

img

):



        

#--- Add image to collada.images


        

if

 

img

.

name

 

not

 

in

 

self

.

collada

.

images

:



            

#--- Copy image to a subdir in the export dir


            

if

 

self

.

copy_images

:



                

# Image source path and basename


                

img_sourcepath

 

=

 

bpy

.

path

.

abspath

(

img

.

filepath

)


                

img_basename

 

=

 

bpy

.

path

.

basename

(

img_sourcepath

)



                

# Copy image to subdir in export dir


                

export_filename

 

=

 

bpy

.

path

.

display_name_from_filepath

(

self

.

export_path

)


                

#subdir = export_filename + "_textures"


                

subdir

 

=

 

"textures"



                

img_destpath

 

=

 

os

.

path

.

join

(

self

.

export_dir

,

 

subdir

,

 

img_basename

)


                

copy_set

 

=

 

{(

img_sourcepath

,

 

img_destpath

)}


                

io_utils

.

path_reference_copy

(

copy_set

)



                

# Relative path to the copied image


                

path

 

=

 

io_utils

.

path_reference

(

img_destpath

,

 

self

.

source_dir

,

 

self

.

export_dir

,

 

'RELATIVE'

)



            

#--- Reference image where it is


            

else

:


                

if

 

self

.

use_relative_path

:


                    

path_mode

 

=

 

'RELATIVE'


                

else

:


                    

path_mode

 

=

 

'ABSOLUTE'


                

path

 

=

 

io_utils

.

path_reference

(

img

.

filepath

,

 

self

.

source_dir

,

 

self

.

export_dir

,

 

path_mode

)



            

#--- Create and add CImage object


            

c_img

 

=

 

material

.

CImage

(

img

.

name

,

 

path

)


            

self

.

collada

.

images

.

append

(

c_img

)



        

#--- Image already added to collada.images


        

else

:


            

c_img

 

=

 

self

.

collada

.

images

[

img

.

name

]



        

return

 

c_img




    

#---------------------------------------------------------------------------


    

# ADD COLLADA VOIDMAT


    

# - Add this material in case of empty or no material slot


    

#---------------------------------------------------------------------------


    

def

 

add_collada_voidmat

(

self

,

 

name

):



        

# Collada material effect


        

c_effect

 

=

 

material

.

Effect

(

name

 

+

"-effect"

,

 

[],

 

'phong'

,


                

diffuse

 

=

 

(

0.5

,

 

0.5

,

 

0.5

,

 

1.0

),


                

ambient

 

=

 

self

.

ambient

,


                

specular

 

=

 

self

.

specular

,


                

shininess

 

=

 

self

.

shininess

)


        

self

.

collada

.

effects

.

append

(

c_effect

)



        

# Collada material


        

c_mat

 

=

 

material

.

Material

(

name

 

+

"-material"

,

 

name

,

 

c_effect

)


        

self

.

collada

.

materials

.

append

(

c_mat

)


        

return

 

scene

.

MaterialNode

(

name

 

+

"-material"

,

 

c_mat

,

 

inputs

=

[])




    

#---------------------------------------------------------------------------


    

# ADD COLLADA MATERIALS


    

# - Add object materials to collada.materials and collada.effects


    

#---------------------------------------------------------------------------


    

def

 

add_collada_materials

(

self

,

 

obj

,

 

me

):


        

material_nodes

 

=

 

[]



        

#--- Get active uv map layer and texture


        

uvlayer

 

=

 

me

.

uv_layers

.

active


        

if

 

uvlayer

:


            

uvtex

 

=

 

me

.

uv_textures

[

uvlayer

.

name

]



        

# [1] No material slot - Add void material


        

if

 

len

(

me

.

materials

)

 

==

 

0

:


            

c_matnode

 

=

 

self

.

add_collada_voidmat

(

self

.

idname

(

obj

.

name

)

 

+

"_voidmat_0"

)


            

material_nodes

.

append

(

c_matnode

)


            

return

 

material_nodes



        

# [2] Go trough all slots in object materials


        

for

 

i

,

 

mat

 

in

 

enumerate

(

me

.

materials

):



            

#--- Empty material slot - Add void material


            

if

 

mat

 

==

 

None

:


                

c_matnode

 

=

 

self

.

add_collada_voidmat

(

self

.

idname

(

obj

.

name

)

 

+

"_voidmat_"

+

 

str

(

i

))


                

material_nodes

.

append

(

c_matnode

)


                

continue



            

#--- Look for uv image assigned to the given material and uv face


            

img

 

=

 

None


            

if

 

self

.

diffuse_material

 

==

 

'UV_IMAGE'

 

and

 

uvlayer

:


                

for

 

f

 

in

 

me

.

polygons

:


                    

if

 

f

.

material_index

 

==

 

i

:


                        

img

 

=

 

uvtex

.

data

[

f

.

index

]

.

image

     

# Get image assigned to the uv face


                        

c_img

 

=

 

self

.

add_collada_image

(

img

)

 

# Add image to collada images


                        

break



            

#--- Include image map in the material effect


            

if

 

img

:


                

c_surface

 

=

 

material

.

Surface

(

img

.

name

 

+

"-surface"

,

 

c_img

,

 

format

=

None

)


                

c_sampler

 

=

 

material

.

Sampler2D

(

img

.

name

 

+

"-sampler"

,

 

c_surface

)


                

params_list

 

=

 

[

c_sampler

,

 

c_surface

]


                

inputs_list

 

=

 

[(

uvlayer

.

name

,

 

'TEXCOORD'

,

 

'0'

)]


                

diffuse_map

 

=

 

material

.

Map

(

c_sampler

,

 

uvlayer

.

name

)



            

#--- No image map for the material effect - Use solid color instead!!


            

else

:


                

params_list

 

=

 

[]


                

inputs_list

 

=

 

[]



                

if

 

self

.

diffuse_material

 

==

 

'MAT_COLOR'

:


                    

clr

 

=

 

mat

.

diffuse_color

[:]

 

+

 

(

1.0

,)


                    

diffuse_map

 

=

 

np

.

round

(

clr

,

 

6

)



                

elif

 

self

.

diffuse_material

 

==

 

'CUSTOM_COLOR'

:


                    

diffuse_map

 

=

 

self

.

custom_color



                

else

:


                    

diffuse_map

 

=

 

(

1.0

,

 

1.0

,

 

1.0

,

 

1.0

)

  

# WHITE_COLOR



            

#--- Add material effect to collada.effects


            

c_name

 

=

 

self

.

idname

(

obj

.

name

)

 

+

"_"

+

 

self

.

idname

(

mat

.

name

)


            

c_effect

 

=

 

material

.

Effect

(

c_name

 

+

"-effect"

,

 

params_list

,

 

'phong'

,


                    

diffuse

 

=

 

diffuse_map

,


                    

ambient

 

=

 

np

.

round

(

self

.

ambient

,

 

6

),


                    

specular

 

=

 

np

.

round

(

self

.

specular

,

 

6

),


                    

shininess

 

=

 

self

.

shininess

)


            

self

.

collada

.

effects

.

append

(

c_effect

)



            

#--- Add material to collada.materials


            

c_mat

 

=

 

material

.

Material

(

c_name

 

+

"-material"

,

 

c_name

,

 

c_effect

)


            

c_matnode

 

=

 

scene

.

MaterialNode

(

c_name

 

+

"-material"

,

 

c_mat

,

 

inputs

=

inputs_list

)


            

self

.

collada

.

materials

.

append

(

c_mat

)


            

material_nodes

.

append

(

c_matnode

)



        

#--- Return scene.MaterialNode for each material


        

return

 

material_nodes




    

#---------------------------------------------------------------------------


    

# EXPORT OBJECT


    

#---------------------------------------------------------------------------


    

def

 

export_object

(

self

,

 

obj

):


        

cs

 

=

 

bpy

.

context

.

scene



        

#-----------------------------------------------------------------------


        

# Prepare object's mesh data (me)


        

#-----------------------------------------------------------------------


        

# Create mesh for export & apply modifiers if desired


        

me

 

=

 

obj

.

to_mesh

(

cs

,

 

self

.

apply_modifiers

,

 

'PREVIEW'

)



        

# Triangulate mesh if desired


        

if

 

self

.

triangulate

:


            

bm

 

=

 

bmesh

.

new

()


            

bm

.

from_mesh

(

me

)


            

bmesh

.

ops

.

triangulate

(

bm

,

 

faces

=

bm

.

faces

)


            

bm

.

to_mesh

(

me

)


            

bm

.

free

()



        

# Calculate normals, necessary if auto-smooth option enabled


        

me

.

calc_normals

()


        

me

.

calc_normals_split

()



        

#-----------------------------------------------------------------------


        

# Material & effect nodes for each object's material


        

#-----------------------------------------------------------------------


        

material_nodes

 

=

 

self

.

add_collada_materials

(

obj

,

 

me

)



        

#-----------------------------------------------------------------------


        

# Source list for vertex coords


        

#-----------------------------------------------------------------------


        

verts_srcid

 

=

 

self

.

idname

(

obj

.

name

)

 

+

 

"-verts"



        

verts_co

 

=

 

np

.

array

([

co

 

for

 

v

 

in

 

me

.

vertices

 

for

 

co

 

in

 

v

.

co

])


        

if

 

self

.

round_values

:


            

verts_co

 

=

 

np

.

round

(

verts_co

,

 

self

.

round_decimals

)



        

verts_src

 

=

 

source

.

FloatSource

(

verts_srcid

,

 

verts_co

,

 

(

'X'

,

 

'Y'

,

 

'Z'

))



        

#-----------------------------------------------------------------------


        

# Source list for normals


        

#-----------------------------------------------------------------------


        

normals_srcid

 

=

 

self

.

idname

(

obj

.

name

)

 

+

 

"-normals"


        

normals

 

=

 

[]



        

# - Good method to get normals, but it ignores Auto-Smooth option


        

#for f in me.polygons:


        

#    # Smooth shaded face - use vertex normals


        

#    if f.use_smooth:


        

#        for v_id in f.vertices:


        

#            v = me.vertices[v_id]


        

#            normals.extend(v.normal)


        

#    # Flat shaded face - use face normal for each polygon vert


        

#    else:


        

#        for v_id in f.vertices:


        

#            normals.extend(f.normal)



        

# - Get normals from Loops - Loops define the boundary loop of a face & store per-face-vertex data


        

for

 

f

 

in

 

me

.

polygons

:


            

for

 

loop_id

 

in

 

f

.

loop_indices

:


                

normals

.

extend

(

me

.

loops

[

loop_id

]

.

normal

)



        

normals

 

=

 

np

.

array

(

normals

)


        

if

 

self

.

round_values

:


            

normals

 

=

 

np

.

round

(

normals

,

 

self

.

round_decimals

)



        

normals_src

 

=

 

source

.

FloatSource

(

normals_srcid

,

 

normals

,

 

(

'X'

,

 

'Y'

,

 

'Z'

))


        

sources

 

=

 

[

verts_src

,

 

normals_src

]



        

#-----------------------------------------------------------------------


        

# Source list for the active UV map texture coords


        

#-----------------------------------------------------------------------


        

uvlayer

 

=

 

me

.

uv_layers

.

active


        

if

 

uvlayer

:


            

tex_srcid

 

=

 

self

.

idname

(

obj

.

name

)

 

+

 

"-tex-"

 

+

 

uvlayer

.

name


            

tex_uv

 

=

 

[]



            

for

 

f

 

in

 

me

.

polygons

:


                

#for loop_id in range(f.loop_start, f.loop_start + f.loop_total):


                

for

 

loop_id

 

in

 

f

.

loop_indices

:


                    

tex_uv

.

extend

([

x

 

for

 

x

 

in

 

uvlayer

.

data

[

loop_id

]

.

uv

])



            

tex_uv

 

=

 

np

.

array

(

tex_uv

)


            

if

 

self

.

round_values

:


                

tex_uv

 

=

 

np

.

round

(

tex_uv

,

 

self

.

round_decimals

)



            

tex_src

 

=

 

source

.

FloatSource

(

tex_srcid

,

 

tex_uv

,

 

(

'S'

,

 

'T'

))


            

sources

.

append

(

tex_src

)



        

#-----------------------------------------------------------------------


        

# Geometry node for this object incl. source lists


        

#-----------------------------------------------------------------------


        

c_geom

 

=

 

geometry

.

Geometry

(

self

.

collada

,

 

self

.

idname

(

obj

.

name

)

+

"-geom"

,

 

self

.

idname

(

obj

.

name

),

 

sources

)



        

#-----------------------------------------------------------------------


        

# Create Polylist for each material


        

#-----------------------------------------------------------------------


        

for

 

i

,

 

matnode

 

in

 

enumerate

(

material_nodes

):



            

#--- Input list to define data binding to the source lists


            

inlist

 

=

 

source

.

InputList

()


            

inlist

.

addInput

(

0

,

 

'VERTEX'

,

 

'#'

+

verts_srcid

)


            

inlist

.

addInput

(

1

,

 

'NORMAL'

,

 

'#'

+

normals_srcid

)


            

if

 

uvlayer

:


                

inlist

.

addInput

(

1

,

 

'TEXCOORD'

,

 

'#'

+

tex_srcid

,

 

set

=

0

)



            

#--- List of indicies to the source lists for each face f, for each vert v


            

indices

 

=

 

[]


            

vcounts

 

=

 

[]


            

n_id

 

=

 

0


            

for

 

f

 

in

 

me

.

polygons

:


                

if

 

f

.

material_index

 

==

 

i

:


                    

vcounts

.

extend

([

len

(

f

.

vertices

)])


                    

for

 

v_id

 

in

 

f

.

vertices

:


                        

indices

.

extend

([

v_id

,

 

n_id

])


                        

n_id

 

+=

 

1


                

else

:


                    

for

 

v_id

 

in

 

f

.

vertices

:


                        

n_id

 

+=

 

1



            

#--- Bind polylist with existing material node


            

material_id

 

=

 

matnode

.

symbol



            

#--- Append polylist to geometry


            

c_poly

 

=

 

c_geom

.

createPolylist

(

np

.

array

(

indices

),

 

np

.

array

(

vcounts

),

 

inlist

,

 

material_id

)


            

c_geom

.

primitives

.

append

(

c_poly

)



        

#-----------------------------------------------------------------------


        

# Create scene node for this object


        

#-----------------------------------------------------------------------


        

self

.

collada

.

geometries

.

append

(

c_geom

)


        

c_geom_node

 

=

 

scene

.

GeometryNode

(

c_geom

,

 

material_nodes

)



        

#--- Object transformation matrix


        

matrix

 

=

 

np

.

array

(

obj

.

matrix_world

)

.

flatten

()


        

if

 

self

.

round_values

:


            

matrix

 

=

 

np

.

round

(

matrix

,

 

self

.

round_decimals

)


        

c_matrix

 

=

 

scene

.

MatrixTransform

(

matrix

)



        

#--- Scene node


        

c_node

 

=

 

scene

.

Node

(

self

.

idname

(

obj

.

name

),

 

children

=

[

c_matrix

,

 

c_geom_node

])


        

self

.

scene_nodes

.

append

(

c_node

)



        

#--- Clean up mesh used for export


        

bpy

.

data

.

meshes

.

remove

(

me

)




    

#---------------------------------------------------------------------------


    

# Sort XML nodes to fix Second Life upload


    

# - With the default sorting, SL fails to upload textures


    

# - newparam/surface node must be before newparam/sampler2D for each effect


    

#---------------------------------------------------------------------------


    

def

 

sortxml

(

self

):



        

#--- Load Collada XML file


        

tree

 

=

 

ET

.

parse

(

self

.

export_path

)


        

root

 

=

 

tree

.

getroot

()



        

# Collada namespace


        

ns

 

=

 

{

'ns'

:

'http://www.collada.org/2005/11/COLLADASchema'

}



        

# Get node tag without namespace


        

gettag

 

=

 

lambda

 

node

 

:

 

re

.

sub

(

"{.*}"

,

 

""

,

 

node

.

tag

)



        

#-----------------------------------------------------------------------


        

# Re-order root nodes


        

#-----------------------------------------------------------------------


        

root_order

 

=

 

[


            

'asset'

,


            

'library_images'

,


            

'library_effects'

,


            

'library_materials'

,


            

'library_geometries'

,


            

'library_visual_scenes'

,


            

'scene'

]



        

root

[:]

 

=

 

sorted

(

root

,

 

key

 

=

 

lambda

 

root

 

:

 

root_order

.

index

(

gettag

(

root

)))



        

#-----------------------------------------------------------------------


        

# Reverse sort of effect nodes newparam/surface and newparam/sampler2D


        

#-----------------------------------------------------------------------


        

for

 

effect

 

in

 

root

.

findall

(

'.//ns:effect/ns:profile_COMMON'

,

 

ns

):



            

# Find and remove newparam nodes from the tree


            

newparam

 

=

 

effect

.

findall

(

"ns:newparam"

,

 

ns

)


            

for

 

item

 

in

 

newparam

:


                

effect

.

remove

(

item

)



            

# Insert sorted newparam nodes


            

# <surface> node must be before <sampler2D>, thus reverse order


            

newparam

 

=

 

sorted

(

newparam

,

 

key

 

=

 

lambda

 

newparam

 

:

 

newparam

.

get

(

'sid'

),

 

reverse

=

True

)



            

for

 

i

,

 

item

 

in

 

enumerate

(

newparam

):


                

effect

.

insert

(

i

,

 

newparam

[

i

])



        

#--- Write XML to file


        

spath

 

=

 

os

.

path

.

splitext

(

self

.

export_path

)


        

#tree.write(spath[0] +"_sortxml"+ spath[1])


        

tree

.

write

(

self

.

export_path

)






#-------------------------------------------------------------------------------




# MENU




#-------------------------------------------------------------------------------




def

 

menu_export

(

self

,

 

context

):


    

self

.

layout

.

operator

(

ColladaExporter_OT

.

bl_idname

,

 

text

=

"Collada for SL (.dae)"

)






#-------------------------------------------------------------------------------




# REGISTER/UNREGISTER ADDON CLASSES




#-------------------------------------------------------------------------------




def

 

register

():


    

bpy

.

utils

.

register_module

(

__name__

)


    

bpy

.

types

.

INFO_MT_file_export

.

prepend

(

menu_export

)





def

 

unregister

():


    

bpy

.

utils

.

unregister_module

(

__name__

)


    

bpy

.

types

.

INFO_MT_file_export

.

remove

(

menu_export

)





if

 

__name__

 

==

 

"__main__"

:


    

register

()