Toggle Object Wire - Blender Addon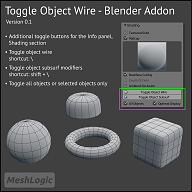 This addon makes toggling of object wire and subsurf modifiers really quick. You can select to toggle all objects in the scene or selected objects only. You can use two dedicated buttons in the Info panel, Shading section or key shortcuts.
It assigns two new shortcuts:

Toggle object wire \
Toggle object subsurf modifiers shift + \
Note: The used key \ (which is located between Shift and Z key on English keyboards) is named GRLESS in Blender's keymap.
ChangeLog
Version 0.1 (29.03.2017)

Initial release (made for Blender 2.78)
Download
blender-addons/toggle-object-wire/0.1/ToggleObjectWire.py (Source)
#-------------------------------------------------------------------------------




#                      Toggle Object Wire - Addon for Blender




# Version: 0.1




# Revised: 29.03.2017




# Author: Miki (Meshlogic)




#-------------------------------------------------------------------------------




bl_info

 

=

 

{


    

"name"

:

 

"Toggle Object Wire"

,


    

"author"

:

 

"Meshlogic"

,


    

"category"

:

 

"3D View"

,


    

"description"

:

 

"Toggle object's wire display or subsurf modifiers for all objects or for the selection only. Shortcuts: wire (\), subsurf (shift+\)."

,


    

"location"

:

 

"3D View > Info Panel > Shading"

,


    

"version"

:

 

(

0

,

 

1

),


    

"blender"

:

 

(

2

,

 

78

,

 

0

)




}





import

 

bpy




from

 

bpy.props

 

import

 

*




from

 

bpy.types

 

import

 

Menu

,

 

Operator

,

 

Panel

,

 

UIList






#-------------------------------------------------------------------------------




# ToggleObjectWire_OT




#-------------------------------------------------------------------------------




class

 

ToggleObjectWire_OT

(

Operator

):


    

bl_idname

 

=

 

"object.toggle_wire"


    

bl_label

 

=

 

"Toggle Object Wire"


    

bl_description

 

=

 

"Toggle object(s) wire display"



    

def

 

execute

(

self

,

 

context

):


        

cs

 

=

 

context

.

scene


        

cs_props

 

=

 

cs

.

toggle_object_wire



        

#--- Toggle all objects or the selected objects only


        

if

 

cs_props

.

all_objects

:


            

obj_list

 

=

 

bpy

.

data

.

objects


        

else

:


            

obj_list

 

=

 

context

.

selected_objects



        

#--- Only one object selected - toggle according the object's state


        

if

 

len

(

obj_list

)

 

==

 

1

:


            

obj

 

=

 

obj_list

[

0

]


            

if

 

obj

 

and

 

obj

.

type

 

in

 

{

'MESH'

,

 

'CURVE'

,

 

'FONT'

,

 

'META'

,

 

'SURFACE'

}:


                

cs_props

.

toggle_wire

 

=

 

not

 

obj

.

show_wire



        

#--- Multiple objects selected - toggle according the previous operator state


        

elif

 

len

(

obj_list

)

 

>

 

1

:


            

cs_props

.

toggle_wire

 

=

 

not

 

cs_props

.

toggle_wire



        

#--- Execute toggling!


        

for

 

obj

 

in

 

obj_list

:


            

if

 

obj

 

and

 

obj

.

type

 

in

 

{

'MESH'

,

 

'CURVE'

,

 

'FONT'

,

 

'META'

,

 

'SURFACE'

}:


                

obj

.

show_all_edges

 

=

 

True


                

obj

.

show_wire

 

=

 

cs_props

.

toggle_wire



                

# Optimal display for subsurf mod


                

for

 

mod

 

in

 

obj

.

modifiers

:


                    

if

 

mod

 

and

 

mod

.

type

 

==

 

'SUBSURF'

:


                        

mod

.

show_only_control_edges

 

=

 

cs_props

.

optimal_display



        

return

{

'FINISHED'

}






#-------------------------------------------------------------------------------




# ToggleSubsurf_OT




#-------------------------------------------------------------------------------




class

 

ToggleSubsurf_OT

(

Operator

):


    

bl_idname

 

=

 

"object.toggle_subsurf"


    

bl_label

 

=

 

"Toggle Object Subsurf"


    

bl_description

 

=

 

"Toggle object(s) subsurf modifiers"



    

def

 

execute

(

self

,

 

context

):


        

cs

 

=

 

context

.

scene


        

cs_props

 

=

 

cs

.

toggle_object_wire



        

#--- Toggle all objects or the selected objects only


        

if

 

cs_props

.

all_objects

:


            

obj_list

 

=

 

bpy

.

data

.

objects


        

else

:


            

obj_list

 

=

 

context

.

selected_objects



        

#--- Only one object selected - toggle according the object's modifier state


        

if

 

len

(

obj_list

)

 

==

 

1

:


            

obj

 

=

 

obj_list

[

0

]



            

# Find state of an existing subsurf mod


            

if

 

obj

 

and

 

obj

.

type

 

in

 

{

'MESH'

,

 

'CURVE'

,

 

'FONT'

,

 

'META'

,

 

'SURFACE'

}:


                

for

 

mod

 

in

 

obj

.

modifiers

:


                    

if

 

mod

 

and

 

mod

.

type

 

==

 

'SUBSURF'

:


                        

cs_props

.

toggle_subsurf

 

=

 

not

 

mod

.

show_viewport


                        

break



        

#--- Multiple objects selected - toggle according the previous operator state


        

elif

 

len

(

obj_list

)

 

>

 

1

:


            

cs_props

.

toggle_subsurf

 

=

 

not

 

cs_props

.

toggle_subsurf



        

#--- Execute toggling!


        

for

 

obj

 

in

 

obj_list

:


            

if

 

obj

 

and

 

obj

.

type

 

in

 

{

'MESH'

,

 

'CURVE'

,

 

'FONT'

,

 

'META'

,

 

'SURFACE'

}:



                

for

 

mod

 

in

 

obj

.

modifiers

:


                    

if

 

mod

 

and

 

mod

.

type

 

==

 

'SUBSURF'

:


                        

mod

.

show_only_control_edges

 

=

 

cs_props

.

optimal_display


                        

mod

.

show_viewport

 

=

 

cs_props

.

toggle_subsurf



        

return

{

'FINISHED'

}






#-------------------------------------------------------------------------------




# update_optimal_display




# - Optimal Display on/off for all subsurf modifiers




#-------------------------------------------------------------------------------




def

 

update_optimal_display

(

self

,

 

context

):



    

cs

 

=

 

context

.

scene


    

cs_props

 

=

 

cs

.

toggle_object_wire


    

obj_list

 

=

 

bpy

.

data

.

objects



    

for

 

obj

 

in

 

obj_list

:


        

if

 

obj

 

and

 

obj

.

type

 

in

 

{

'MESH'

,

 

'CURVE'

,

 

'FONT'

,

 

'META'

,

 

'SURFACE'

}:


            

for

 

mod

 

in

 

obj

.

modifiers

:


                

if

 

mod

 

and

 

mod

.

type

 

==

 

'SUBSURF'

:


                    

mod

.

show_only_control_edges

 

=

 

cs_props

.

optimal_display






#-------------------------------------------------------------------------------




# ADD THIS TO THE INFO PANEL (VIEW3D_PT_view3d_shading)




#-------------------------------------------------------------------------------




def

 

toggle_object_wire_panel

(

self

,

 

context

):


    

cs

 

=

 

context

.

scene


    

cs_props

 

=

 

cs

.

toggle_object_wire


    

layout

 

=

 

self

.

layout



    

#layout.separator()


    

col

 

=

 

layout

.

column

(

True

)


    

col

.

operator

(

"object.toggle_wire"

,

 

icon

=

'WIRE'

)


    

col

.

operator

(

"object.toggle_subsurf"

,

 

icon

=

'MOD_SUBSURF'

)



    

row

 

=

  

layout

.

row

(

True

)


    

row

.

prop

(

cs_props

,

 

"all_objects"

)


    

row

.

prop

(

cs_props

,

 

"optimal_display"

)






#-------------------------------------------------------------------------------




# CUSTOM SCENE PROPS




#-------------------------------------------------------------------------------




class

 

ToggleObjectWire_Props

(

bpy

.

types

.

PropertyGroup

):



    

all_objects

 

=

 

BoolProperty

(


        

name

 

=

 

"All Objects"

,


        

description

 

=

 

"Toggle wire and subsurf modifiers for all objects"

,


        

default

 

=

 

True

)



    

optimal_display

 

=

 

BoolProperty

(


        

name

 

=

 

"Optimal Display"

,


        

description

 

=

 

"Optimal display for subsurf modifiers"

,


        

default

 

=

 

True

,


        

update

 

=

 

update_optimal_display

)



    

# Keep operator's toggle state


    

toggle_wire

 

=

 

BoolProperty

(

default

=

False

)


    

toggle_subsurf

 

=

 

BoolProperty

(

default

=

True

)






#-------------------------------------------------------------------------------




# REGISTER/UNREGISTER ADDON CLASSES




#-------------------------------------------------------------------------------




addon_keymaps

 

=

 

[]





def

 

register

():


    

bpy

.

utils

.

register_module

(

__name__

)


    

bpy

.

types

.

Scene

.

toggle_object_wire

 

=

 

PointerProperty

(

type

=

ToggleObjectWire_Props

)


    

bpy

.

types

.

VIEW3D_PT_view3d_shading

.

append

(

toggle_object_wire_panel

)



    

# Add custom shortcuts ('GRLESS' = backslash '\')


    

wm

 

=

 

bpy

.

context

.

window_manager


    

km

 

=

 

wm

.

keyconfigs

.

addon

.

keymaps

.

new

(

name

=

'Object Mode'

,

 

space_type

=

'EMPTY'

)


    

kmi

 

=

 

km

.

keymap_items

.

new

(

"object.toggle_wire"

,

 

type

=

'GRLESS'

,

 

value

=

'PRESS'

,

 

ctrl

=

False

,

 

shift

=

False

)


    

kmi

 

=

 

km

.

keymap_items

.

new

(

"object.toggle_subsurf"

,

 

type

=

'GRLESS'

,

 

value

=

'PRESS'

,

 

ctrl

=

False

,

 

shift

=

True

)


    

addon_keymaps

.

append

((

km

,

 

kmi

))





def

 

unregister

():


    

# Remove custom shortcuts


    

for

 

km

,

 

kmi

 

in

 

addon_keymaps

:


        

km

.

keymap_items

.

remove

(

kmi

)


    

addon_keymaps

.

clear

()



    

bpy

.

utils

.

unregister_module

(

__name__

)


    

del

 

bpy

.

types

.

Scene

.

toggle_object_wire


    

bpy

.

types

.

VIEW3D_PT_view3d_shading

.

remove

(

toggle_object_wire_panel

)





if

 

__name__

 

==

 

"__main__"

:


    

register

()